Stone Age modular masonry indoor and outdoor fireplaces were born of a desire to simplify fireplace construction for masons and consumers, while delivering consistently outstanding quality and performance for any application.
Superior designs and materials are the hallmark of Stone Age products, and this dedication to quality begins with our fireplace kits.
All of our fireplace kits are made from Stone Age's proprietary heat-tolerant, high-strength concrete mix (over 3500 psi), with solid wall construction, and steel and fiber reinforcement, which results in a much stronger and more durable fireplace than other products that may look similar at a glance. With Stone Age, you've got a fireplace you can be confident in for years to come.
Our elegantly simple designs draft well in demanding outdoor conditions, with minimal smoke spillage into the viewing area, allowing consumers to enjoy the comforting warmth and ambiance of a wood fire at times when owners of lesser fireplaces might be forced indoors. Our indoor fireplaces deliver the same outstanding performance, while addressing the unique requirements of indoor applications.
Stone Age fireplaces are designed to draft strongly, so that smoke flows up through the chimney, instead
of spilling out of the front of the fireplace, like many other lesser quality fireplaces.
Side View Cutaway of Fireplaces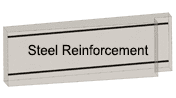 Cutaway View - Competitor
Stone Age Fireplace Wall Piece
Cutaway View - Competitor
Stone Age

Fireplaces

- Series, Models & Configurations
5 Fireplace Series, 16 Models & 41 Configurations
Stone Age has a fireplace for every application: indoor or outdoor.
Understanding Fireplace

Certifications
Most Stone Age fireplace models are tested and certified to meet or exceed the latest UL-127 and ULC-S610 standards for indoor and outdoor factory built fireplaces, assuring you that our products have been independently tested to determine clearance to combustible materials requirements around the units, for tolerance against thermal breakdown during usage, and for requirements specific to the outdoor environment, such as resistance against breakdown due to freeze/thaw cycling, and wind resistance.  Some fireplace brands only test their products to the portion of the UL-127 standard that covers indoor fireplaces, and forego the more rigorous demands of the outdoor certification.
All Stone Age UL-127 and ULC-S610 fireplaces may be used for indoor or outdoor installations.
Additionally, our New Age™ fireplaces are tested to ICC-ES AC156 for tolerance to seismic activity, for areas where earthquake resistance is required or preferred for indoor applications.