Contractor Series
Fireplaces
The Contractor Series offers Stone Age design and materials with an emphasis on value.  The kit is distilled down to its essential components of fireplace and chimney, and additional items are left optional, to give you a fireplace comparable to competing models with Stone Age quality and innovation.
The Contractor Series is the perfect choice for applications where a customized profile is desired, or for projects where the lower wood storage area of the Standard fireplace is not needed.
UL-127 and ULC-S610 Certified for outdoor or indoor applications.
Arched or Straight Lintel
See-Thru Models Available
36" Contractor Series in Natural Stone
Arched Lintel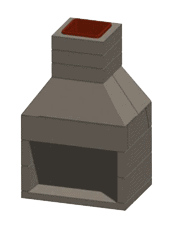 Straight Lintel
See-Thru Arched Lintel
See-Thru Straight Lintel
Assembly video

Contractor Series Fireplace Assembly Overview
Assembly animation of a Stone Age Contractor Series Fireplace.
Stone Age Fireplaces - Contractor Series

Contractor Series Fireplace Kits
Stone Age has a fireplace for every application: indoor or outdoor.
Chimney System for

Contractor Series Fireplaces
Contractor Series fireplace kits include the Stone Age Standard chimney system.  Each section of this proprietary chimney system is 6 inches tall, and incorporates a traditional clay flue tile within an outer chimney block of heat-resistant concrete, to create a one-piece system designed to stand up to the high operating temperatures of a wood burning or gas-fueled fireplace.  Flue tiles are offset within the concrete blocks, to create a pocket at the bottom of each section, that allows the tile from the section below to nest within the one above, for a superior bond. Contractor Series fireplaces include 1-1/2 feet of chimney, and additional chimney sections may be added as desired.
Section View of Stone Age Chimney
Accessories - Outdoor Fireplaces

Contractor Series Fireplaces
Accessories to complete and complement the Contractor Series Fireplaces